---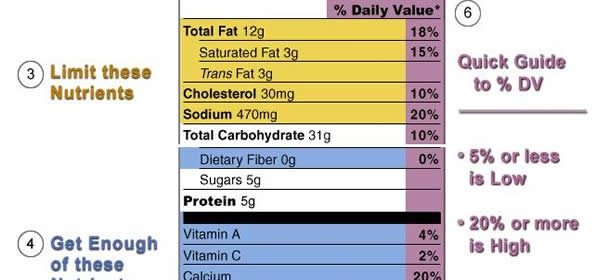 Food additives have been used for centuries to improve and preserve the taste, texture, nutrition and appearance of food. Food additives and preservatives are used in today's food supply to prevent foodborne illness, enable the transportation of food to areas that otherwise wouldn't be possible, and for the efficient manufacture of products to consistently meet the established quality standards from batch to batch.
The U.S. Food and Drug Administration evaluates the safety of food additives and determines how they may be used in the food supply. If an additive is approved, the FDA issues regulations that may include the types of foods in which it can be used, the maximum amounts to be used and how it should be identified on food labels.
The FDA maintains a database of nearly 4,000 ingredients, entitled "Substances Added to Food." Here's a peek at a few categories and ingredients commonly used in the food supply and what they do.
pH Control Agents
Ingredients that either maintain or control the acidity or alkalinity of foods are known as pH control agents. Citric acid, acetic acid and sodium citrate are widely used agents and often are found in gelatins, jams, ice cream and candies. Lactic acid is an acidity regulator used in cheese-making, and adipic acid can be found in bottled fruit-flavored drinks.
Anti-caking Agents
Anti-caking agents are added to powdered or granulated ingredients — such as powdered milks, egg mixes, sugar products, flours and baking mixes — to prevent lumping, caking or sticking. There are many agents to choose from, including calcium phosphates, silicon dioxide, silicates (calcium, aluminum and tricalcium) and stearic acid.
Emulsifiers
Emulsifiers are added to oil and water-based mixtures so they stay blended over the course of the food product's shelf life. Examples of emulsions in everyday foods include vinaigrette dressings, milk and mayonnaise. Lecithin from egg yolk and soybean are commonly used emulsifiers in the food supply. Others include diacetyl tartaric acid ester of monoglycerides (DATEM) and sodium stearyl lactylate. These often are used in commercial bread doughs, artificial whipped creams and dried, liquid or frozen egg whites.
Humectants
Humectants keep foods moist. Common examples include glycerin, honey, sugar polyols (glycerol, sorbitol, xylitol, maltitol) and propylene glycol, and often are found in candy, baked goods and salad dressings. It's important to note that polyols also are used in foods as a low-calorie sweetening option, particularly for sugar-free chewing gums, candies and other low-calorie foods.
Stabilizers, Thickeners and Gelling Agents
These are widely used across many food product categories to increase viscosity and improve stability by preventing emulsions from separating, ice crystals from forming and ingredients from settling. The starch-based category of thickeners includes arrowroot, corn, potato and tapioca. Vegetable gums include guar, locust bean and xanthan gum. Common protein-based thickeners include collagen, egg whites and gelatin. Alginic acid, alginates (sodium, potassium, calcium), agar-agar and carrageenan are polysaccharides derived from algae and seaweeds, while pectin is a polysaccharide originating from apple and citrus fruits.
Leavening Agents
Leavening agents are incorporated into doughs and batters to increase the volume, shape and texture of baked goods. Common leavening agents include baking powder, beer, buttermilk, yeast, whey protein concentrate and yogurt. Used in a wide variety of sweet and savory products, these leavening agents can be found in cakes, cookies, breads, biscuits, scones, muffins and soda bread.
Source https://www.eatright.org/food/vitamins-and-supplements/nutrient-rich-foods/what-are-food-additives
---
Processed food has a bad reputation as a diet saboteur. It's blamed for obesity rates, high blood pressure and the rise of Type 2 diabetes. But processed food is more than boxed macaroni and cheese, potato chips and drive-thru hamburgers. It may be a surprise to learn that whole-wheat bread, homemade soup or a chopped apple also are processed foods.
While some processed foods should be consumed less often, many actually have a place in a balanced diet. Here's how to sort the nutritious from the not-so-nutritious.
What Is Processed Food?
"Processed food" includes food that has been cooked, canned, frozen, packaged or changed in nutritional composition with fortifying, preserving or preparing in different ways. Any time we cook, bake or prepare food, we're processing food.
Processed food falls on a spectrum from minimally to heavily processed:
Minimally processed foods — such as bagged spinach, cut vegetables and roasted nuts — often are simply pre-prepped for convenience.
Foods processed at their peak to lock in nutritional quality and freshness include canned tomatoes, frozen fruit and vegetables, and canned tuna.
Foods with ingredients added for flavor and texture (sweeteners, spices, oils, colors and preservatives) include jarred pasta sauce, salad dressing, yogurt and cake mixes.
Ready-to-eat foods — such as crackers, granola and deli meat — are more heavily processed.
The most heavily processed foods often are pre-made meals including frozen pizza and microwaveable dinners.
The Positives of Processed
Processed food can help you eat more nutrient-dense foods. Milk and juices sometimes are fortified with calcium and vitamin D, and breakfast cereals may have added fiber. Canned fruit (packed in water or its own juice) is a good option when fresh fruit is not available. Some minimally processed food such as pre-cut vegetables and pre-washed, bagged spinach are quality convenience foods for busy people.
If you want to minimize your intake of processed food, aim to do more food prep and cooking at home. Base meals on whole foods including vegetables, beans and whole grains.
Look for Hidden Sugar and Sodium
Eating processed food in moderation is fine, but many of these foods may contain high amounts of added sugar and sodium.
Added Sugars
Added sugars are any sugar that is not naturally occurring in the food and has been added manually.Added sugars aren't just hidden in processed sweets. They're added to bread to give it an appealing browned hue, and there often is a surprising amount added to jarred pasta sauces and cereal. Added sugars often are used in low-fat foods to improve taste and consistency. The grams of carbohydrate on the Nutrition Facts label also includes naturally occurring sugars which may be a significant amount in foods such as yogurt and fruit. Instead, review a product's ingredient list and look for added sugars among the first two or three ingredients including sugar, maltose, brown sugar, corn syrup, cane sugar, honey and fruit juice concentrate.
Sodium
Processed foods are major contributors of sodium in our diets because salt is commonly added to preserve foods and extend shelf life. Most canned vegetables, soups and sauces have added salt. Choose foods labeled no salt added, low-sodium or reduced-sodium to decrease the amount of salt you're consuming from processed foods.
Source https://www.eatright.org/food/nutrition/nutrition-facts-and-food-labels/processed-foods-whats-ok-and-what-to-avoid
---
Your heart health is tied to your kidney health. In fact, having kidney disease puts you at risk for getting heart disease. And having heart disease puts you at risk for kidney disease. Learn how these two diseases are connected and how you can lower your risk for both with a few simple steps.
What Is Kidney Disease?
The kidneys are two organs, each about as big as a fist and shaped like a kidney bean. As the heart pumps blood throughout the body, kidneys clean it, remove waste, help maintain blood pressure, and ensure the blood has the right amounts of certain nutrients and minerals.
Kidney disease means the kidneys are damaged. Experts think that more than 1 in 7 U.S. adults, or about 30 million people, have chronic kidney disease (disease lasting longer than 3 months). Most people with kidney disease don't know they have it. Often, people with early kidney disease feel fine and do not have any symptoms. The only way to know for sure whether you have kidney disease is to get blood and urine tests.
How Does Kidney Disease Affect the Heart?
Damaged kidneys put extra stress on the heart. The damage prevents the kidneys from cleaning waste and extra fluids from the blood and body. When waste and extra fluid stay in the body, people can have other health problems, including high blood pressure, heart disease, and stroke. People with kidney disease are much more likely to die from heart disease than kidney problems.
Who Is at Risk for Kidney Disease?
The risks for kidney disease are similar to the risks for heart disease. People who have diabetes and high blood pressure are at greater risk for kidney disease as well as heart disease:
·         Diabetes is a disease that happens when the body cannot make enough insulin (a hormone made in the pancreas) or cannot use the insulin it has. Insulin helps the body process sugar for energy. Without enough insulin, people with diabetes can have high blood sugar. Over time, having diabetes damages the kidneys and heart. More than 100 million Americans have diabetes or prediabetes (a condition that can lead to diabetes).
·         High blood pressure puts stress on the heart and kidneys over time and greatly increases the risk for heart disease, kidney disease, and stroke. High blood pressure has no symptoms, so many people do not know they have it. The only way to know is to have your blood pressure checked regularly.
Certain races and ethnicities also have a higher risk for kidney disease.
·         About 1 in 6 African Americans has kidney disease. African Americans are about three times more likely to develop the most severe stage of kidney disease (kidney failure) than whites are. African Americans also develop high blood pressure and diabetes more often than whites and Hispanics do.
·         Hispanics are about one and a half times more likely to develop kidney failure than non-Hispanics are. Hispanics are also more likely to have diabetes than non-Hispanic whites are.
How Can I Lower My Risk for Kidney Disease and Heart Disease?
The good news is that you can prevent and manage kidney disease by making healthy life choices and taking medicines. These simple steps can protect you from kidney disease and heart disease.
·         Manage your blood pressure. Know your blood pressure numbers. Take any blood pressure medicines the way your doctor tells you to. Learn more about managing blood pressure.
·         Make healthy eating choices. Choose foods and drinks low in added sugar and sodium (salt). Sugary foods raise blood sugar, and sodium raises blood pressure. Instead, get plenty of heart-healthy fruits, vegetables, and whole grains. Learn more about choosing healthy foods.
·         Do not smoke. Smoking greatly raises your risk for heart disease, stroke, and other problems. If you don't smoke, don't start. If you do, learn how to quit.
·         Stay physically active. Getting regular physical activity keeps your heart, blood vessels, and kidneys healthy. Physical activity also helps manage weight. Learn more about staying active.
Source https://www.cdc.gov/features/kidney-heart-health/index.html
---
You have two kidneys, each about the size of an adult fist, located on either side of the spine just below the rib cage. Although they are small, your kidneys perform many complex and vital functions that keep the rest of the body in balance. For example, kidneys:
Help remove waste and excess fluid

Filter the blood, keeping some compounds while removing others

Control the production of red blood cells

Make vitamins that control growth

Release hormones that help regulate blood pressure

Help regulate blood pressure, red blood cells, and the amount of certain nutrients in the body, such as calcium and potassium.
Here's how kidneys perform their important work:
Blood enters the kidneys through an artery from the heart

Blood is cleaned by passing through millions of tiny blood filters

Waste material passes through the ureter and is stored in the bladder as urine

Newly cleaned blood returns to the bloodstream by way of veins

Bladder becomes full and urine passes out of the body through the urethra.
The kidneys perform their life-sustaining job of filtering and returning to the bloodstream about 200 quarts of fluid every 24 hours. Approximately two quarts are eliminated from the body in the form of urine, while the remainder, about 198 quarts, is retained in the body. The urine we excrete has been stored in the bladder for approximately one to eight hours.
---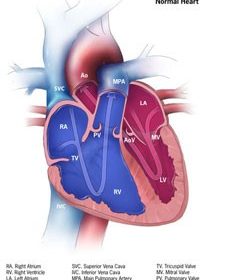 The heart is an organ, about the size of a fist. It is made of muscle and pumps blood through the body. Blood is carried through the body in blood vessels, or tubes, called arteries and veins. The process of moving blood through the body is called circulation. Together, the heart and vessels make up the cardiovascular system.
Structure of the Heart
The heart has four chambers (two atria and two ventricles). There is a wall (septum) between the two atria and another wall between the two ventricles. Arteries and veins go into and out of the heart. Arteries carry blood away from the heart and veins carry blood to the heart. The flow of blood through the vessels and chambers of the heart is controlled by valves.
Blood Flow Through the Heart
(Abbreviations refer to labels in the illustration)
The heart pumps blood to all parts of the body. Blood provides oxygen and nutrients to the body and removes carbon dioxide and wastes. As blood travels through the body, oxygen is used up, and the blood becomes oxygen poor.
Oxygen-poor blood returns from the body to the heart through the 

superior vena cava

 (SVC) and 

inferior vena cava

 (IVC), the two main veins that bring blood back to the heart.

The oxygen-poor blood enters the right atrium (RA), or the right upper chamber of the heart.

From there, the blood flows through the 

tricuspid valve

 (TV) into the right ventricle (RV), or the right lower chamber of the heart.
The right ventricle (RV) pumps oxygen-poor blood through the 

pulmonary valve

 (PV) into the main pulmonary artery (MPA).

From there, the blood flows through the right and left pulmonary arteries into the lungs.

In the lungs, oxygen is put into the blood and carbon dioxide is taken out of the blood during the process of breathing. After the blood gets oxygen in the lungs, it is called 

oxygen-rich

 blood.

Oxygen-rich blood flows from the lungs back into the left atrium (LA), or the left upper chamber of the heart, through four pulmonary veins.

Oxygen-rich blood then flows through the 

mitral valve

 (MV) into the left ventricle (LV), or the left lower chamber.
The left ventricle (LV) pumps the oxygen-rich blood through the 

aortic valve

 (AoV) into the 

aorta

 (Ao), the main artery that takes oxygen-rich blood out to the rest of the body.
Source https://www.cdc.gov/ncbddd/heartdefects/howtheheartworks.html
---
What is a congenital heart defect?
Congenital heart defects (CHDs) are problems with the heart's structure that are present at birth.

Common examples include holes in the inside walls of the heart and narrowed or leaky valves. In more severe forms of CHDs, blood vessels or heart chambers may be missing, poorly formed, and/or in the wrong place.
How common are congenital heart defects?
CHDs are the most common birth defects. CHDs occur in almost 1% of births.

An approximate 100-200 deaths are due to unrecognized heart disease in newborns each year. These numbers exclude those dying before diagnosis.

Nearly 40,000 infants in the U.S. are born each year with CHDs.

CHDs are as common as autism and about twenty-five times more common than cystic fibrosis.

Approximately two to three million individuals are thought to be living in the United States with CHDs. Because there is no U.S. system to track CHDs beyond early childhood, more precise estimates are not available.

Thanks to improvements in survival, the number of adults living with CHDs is increasing. It is now believed that the number of adults living with CHDs is at least equal to, if not greater than, the number of children living with CHDs.
What is the health impact of congenital heart defects?
CHDs are the most common cause of infant death due to birth defects.

Approximately 25% of children born with a CHD will need heart surgery or other interventions to survive.

Over 85% of babies born with a CHD now live to at least age 18. However, children born with more severe forms of CHDs are less likely to reach adulthood.

Surgery is often not a cure for CHDs. Many individuals with CHDs require additional operation(s) and/or medications as adults.

People with CHDs face a life-long risk of health problems such as issues with growth and eating, developmental delays, difficulty with exercise, heart rhythm problems, heart failure, sudden cardiac arrest or stroke.

People with CHDs are now living long enough to develop illnesses like the rest of the adult population, such as high blood pressure, obesity and acquired heart disease.

CHDs are now the most common heart problem in pregnant women.
What causes congenital heart defects?
Most causes of CHDs are unknown. Only 15-20% of all CHDs are related to known genetic conditions.

Most CHDs are thought to be caused by a combination of genes and other risk factors, such as environmental exposures and maternal conditions. Because the heart is formed so early in pregnancy, the damage may occur before most women know they are pregnant.

Environmental exposures that may be related to risk of having a CHD include the mother's diet and certain chemicals and medications. Maternal diabetes is a recognized cause of CHDs. Maternal obesity, smoking, and some infections also may raise the risk of having a baby with a CHD. Preventing these risk factors before a pregnancy is crucial.

A baby's risk of having a CHD is increased by 3 times if the mother, father, or sibling has a CHD.
What are the health care access and cost challenges related to congenital heart defects?
In 2009, the hospital cost for roughly 27,000 hospital stays for children treated primarily for CHDs in the U.S. was nearly $1.5 billion. In the same year, hospital cost for roughly 12,000 hospital stays of adults treated primarily for CHD was at least $280 million.

A significant number of adults with CHD in the U.S. report having problems obtaining insurance and coverage for specialized care.

Compared to the general population, adults with CHD have 3 – 4 times higher rates of Emergency Room visits, hospitalizations, and Intensive Care Unit stays.

Fewer than 10% of adults with CHDs in the U.S. who need care from specialty adult CHD centers are receiving this recommended care.
Source https://mendedhearts.org/story/chd-facts-and-statistics/
---
Cancers can be caused by a number of different factors and, as with many other illnesses, most cancers are the result of exposure to a number of different causal factors. It is important to remember that, while some factors cannot be modified, around one third of cancer cases can be prevented by reducing behavioural and dietary risks.
Modifiable risk factors include:
Alcohol– The evidence that all types of alcoholic drinks are a cause of a number of cancers is now stronger than ever before. Alcohol can increase the risk of six types of cancers, including bowel (colorectal), breast, mouth, pharynx and larynx (mouth and throat), oesophageal, liver and stomach[1].The evidence suggests that in general, the most alcohol drinks people consume the higher the risk of many cancers, and that even moderate alcohol intake increases the risk of cancer.
Being overweight or obese – excess weight has been linked to an increased risk of developing 12 different cancers, including bowl and pancreatic cancers. In general, greater weight gain, particularly as adults, is associated with greater cancer risks.
Physical activity– regular physical activity not only helps to reduce excess body fat and the cancer risks associated with this, but being physically active can help to reduce the risks of developing colon, breast and endometrial cancers[5].
Tobacco– Tobacco smoke contains at least 80 different cancer-causing substances (carcinogenic agents). When smoke is inhaled the chemicals enter the lungs, pass into the blood stream and are transported throughout the body[6]. This is why smoking or chewing tobacco not only causes lung and mouth cancers but is also related to many other cancers. The more a person smokes, the younger they start, and the longer they keep smoking, all further increase the risk of cancer. Currently tobacco use is responsible for around 22% of cancer deaths[7].
Ionising radiation– Manmade sources of radiation can cause cancer and are a risk for workers. These include radon, x-rays, gamma rays and other forms of high-energy radiation[8]. Prolonged and unprotected exposure to ultraviolet radiations from the sun, sunlamps and tanning beds can also lead to melanoma and skin malignancies. Fair skinned people, individuals with a lot of moles or who have a family history of melanoma or non-melanoma skin cancer, are at highest risk. However, people of all skin tones can develop skin cancer, including individuals with darker skin[9].
Work place hazards– Some people risk being exposed to a cancer-causing substance because of the work that they do. For example, workers in the chemical dye industry have been found to have a higher incidence than normal of bladder cancer. Asbestos is a well-known workplace cause of cancer – particularly a cancer called mesothelioma, which most commonly affects the covering of the lungs.
Infection– Infectious agents are responsible for around 2.2 million cancer deaths annually[10]. This does not mean that these cancers can be caught like an infection; rather the virus can cause changes in cells that make them more likely to become cancerous.
Around 70% of cervical cancers are caused by Human papillomavirus (HPV) infections[11], while liver cancer and Non-Hodgkin Lymphoma can be caused by the Hepatitis B and C virus[12], and lymphomas are linked to the Epstein-Barr virus[13].
Bacterial infections have not been thought of as cancer-causing agents in the past, but more recent studies have shown that people who have helicobacter pylori infection of their stomach develop inflammation of the stomach lining, which increases the risk of stomach cancer.
Source https://www.worldcancerday.org/what-cancer#typesofcancers
---
Cancer can be classified according to the type of cell they start from. There are five main types:
Carcinoma– A cancer that arises from the epithelial cells (the lining of cells that helps protect or enclose organs). Carcinomas may invade the surrounding tissues and organs and metastasise to the lymph nodes and other areas of the body. The most common forms of cancer in this group are breast, prostate, lung and colon cancer
Sarcoma– A type of malignant tumour of the bone or soft tissue (fat, muscle, blood vessels, nerves and other connective tissues that support and surround organs). The most common forms of sarcoma are leiomyosarcoma, liposarcoma and osteosarcoma
Lymphoma and Myeloma– Lymphoma and Myeloma are cancers that begin in the cells of the immune system. Lymphoma is a cancer of the lymphatic system, which runs all through the body, and can therefore occur anywhere. Myeloma (or multiple myeloma) starts in the plasma cells, a type of white blood cell that produces antibodies to help fight infection. This cancer can affect the cell's ability to produce antibodies effectively
Leukaemia– Leukaemia is a cancer of the white blood cells and bone marrow, the tissue that forms blood cells. There are several subtypes; common are lymphocytic leukaemia and chronic lymphocytic leukaemia
Brain and spinal cord cancers– these are known as central nervous system cancers. Some are benign while others can grow and spread.
Source https://www.worldcancerday.org/what-cancer#typesofcancers
---
When he's feeling under the weather, ADA dentist Dr. Gene Romo says one thing always helps him feel a little more like himself. "Brushing my teeth when I'm sick actually makes me feel better," he says. "My mouth feels clean, and in a way, I feel like my health is starting to improve."
When you have a cold or the flu, taking care of your body is your top priority—and that includes your mouth. "It's important to take care of your dental health all year round, but especially when you're sick," Dr. Romo says.
Here are some simple ways to care for your dental health when you're not feeling well: 
Practice Good Hygiene
When you're sick, you know to cover your mouth when you cough and sneeze. Don't forget to keep up your dental and toothbrush hygiene as well.
According to the CDC, the flu virus can live on moist surfaces for 72 hours. "The number one rule is not to share your toothbrush anytime, but especially when you are sick," Dr. Romo says.
You also probably don't need to replace your toothbrush after you've been sick. Unless your immune system is severely compromised, the chances of reinfecting yourself are very low. "But if you're still in doubt, throw it out," says Dr. Romo. "Especially if you've had your toothbrush for 3-4 months, when it's time to replace it anyway."
Choose Sugar-Free Cough Drops
Read the label before you pick up a bag at the drug store with an eye to avoid ingredients like fructose or corn syrup. "Many cough drops contain sugar, and it is like sucking on candy," says Dr. Romo. "Sugar is a culprit when it comes to cavities." The longer you keep a sugary cough drop in your mouth, the more time cavity-causing bacteria has to feast on that sugar, which produces the acid that can leave holes in your teeth.
Swish and Spit After Vomiting
One unfortunate side effect of a stomach flu, among other illnesses, is vomiting. You might be tempted to brush your teeth right away, but Dr. Romo says it's actually better to wait. "When you vomit, stomach acids are coming in contact with your teeth and coating them," he says. "If you brush too soon, you're just rubbing that acid all over the hard outer shell of your teeth."
Instead, swish with water, a diluted mouth rinse or a mixture of water and 1 tsp. baking soda to help wash the acid away. Spit, and brush about 30 minutes later.
Stay Hydrated to Avoid Dry Mouth
When you're sick, you need plenty of fluids for many reasons. One is to prevent dry mouth. Not only is it uncomfortable—dry mouth can also put you at greater risk for cavities. The medications you might be taking for a cold or flu—such as antihistamines, decongestants or pain relievers—can also dry out your mouth, so drink plenty of water and suck on sugarless cough drops, throat lozenges or candies to keep that saliva flowing.
Choose the Right Fluids
When it comes to your mouth and your body, one beverage is always best. "The safest thing to drink is water," Dr. Romo says. "Sports drinks might be recommended to replenish electrolytes when you're sick, but drink them in moderation and don't make them a habit after you've recovered because unless they are a sugar free version, they contain a lot of sugar."
You might also want something to warm you up. "When you have a cold or the flu, you may want something comforting to get through it, like tea," he says. "Try not to add sugar or lemon if you can avoid it. Sugar can helps to fuel cavity-causing bacteria, and lemon is acidic. It's something to keep in mind once you're feeling 100% again, as well."
Source https://www.mouthhealthy.org/en/az-topics/c/cold-and-flu-season?utm_source=mouthhealthyorg&utm_medium=mhtopstories&utm_content=cold-flu
---