Take it Easy – Your Body will Thank You
Whether it happens at work or on the golf course, overexertion continues to be a leading cause of injury over all age groups. It was the second leading reason (after falls) that adults age 25-64 ended up in emergency departments in 2013, and the third leading cause for kids ages 10 and older, often from too-heavy backpacks, computers and gaming, and poor posture.
Overexertion causes 35% of all work-related injuries and is, by far, the largest contributor to workers' compensation costs – more than $15 billion, or 25% of the total cost in 2012, according to Injury Facts 2016®. It also is the #1 reason for lost work days. More than 322,00 people missed work that year due to overexertion. Here are some injury statistics by industry for 2014:
·         Construction – 19,070
·         Manufacturing – 46,040
·         Wholesale trade – 21,100
·         Retail trade – 42,720
·         Transportation and warehousing – 38,960
·         Professional and business services – 23,410
·         Education and health services – 68,720
·         Government – 72,050
Over all age groups, whether work-related or off-the-job, hospitals treated 3,132,271 overexertion-related injuries in 2014, and the trend doesn't seem to be going downward. What gives?
It's Really About Ergonomics
Ergonomic injuries are disorders of the soft tissue, specifically of the muscles, nerves, tendons, ligaments, joints, cartilage, blood vessels and spinal discs caused by:
·         Excessive lifting, lowering, pushing, pulling, reaching or stretching
·         Repetitive motion
·         Working in awkward positions
·         Sitting or standing for prolonged period of time
·         Using excessive force
·         Vibration, resting on sharp corners or edges
·         Temperature extremes
Whether you become injured on an assembly line or typing on a computer, playing video games or helping someone move, it's important to know the signs. Ergonomic injury is cumulative. Symptoms can include everything from posture problems and intermittent discomfort, to tendonitis, chronic pain and disability.
Overexertion can be Prevented
Regular exercise, stretching and strength training to maintain a strong core all are beneficial in preventing injury. Following are some additional tips for work and home:
·         Plan a lift before you begin, keep your back straight and lift with your legs
·         Limit the amount of time you spend doing the same motion over and over
·         Take frequent breaks from any sustained position every 20-30 minutes
·         If you work at a desk, move frequently used items close to you, use a footrest and adjust the height of your computer
·         Report pain, swelling, numbness, tingling, tenderness, clicking or loss of strength to your doctor before it becomes a full-blown injury
Source https://www.nsc.org/work-safety/safety-topics/ergonomics-overexertion
---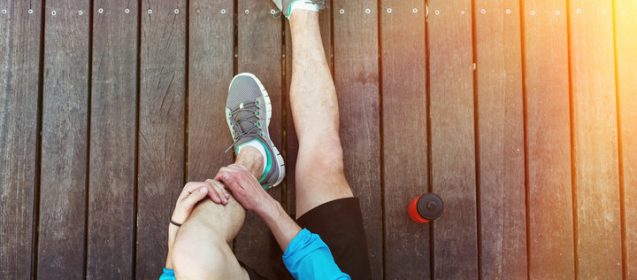 Ways to Be Active
The Physical Activity Guidelines for Americans recommends 30 minutes of physical activity a day for adults, 60 minutes for children, at least five days a week. Sound daunting? It's much easier than you think, regardless of your current activity level. There are plenty of ways to get moving and some may even surprise you! It's time to be active, get healthy, and have some fun!
Being active doesn't require joining a gym. Look for ways to increase your heart rate during your daily routine. Walk or cycle instead of taking the car or bus, or you can choose the stairs over the escalator or elevator. Try these ways to be active and start working towards your fitness goals to jumpstart or maintain a healthy lifestyle.
There are many health benefits to being active for people of all ages, backgrounds and abilities, but you should consult your physician before starting a new activity program. If you haven't been active in a while, start slowly and build up. Do what you can; some physical activity is better than none.
Different Types of Physical Activity
Aerobic activities can range from 60-85% of your maximum heart rate.
Aerobic activities make you breathe harder and your heart beat faster. Aerobic activities can be moderate or vigorous in their intensity levels, and range from 60-85% of your maximum heart rate. A general guide to use: For moderate activities you can talk, but you can't sing. With vigorous activities, you can only say a few words without stopping to catch your breath.
Muscle-strengthening activities make your muscles stronger.
Bone-strengthening activities make your bones stronger and are especially important for children and adolescents, as well as older adults.
Balance and stretching activities enhance physical stability and flexibility, which reduce the risk of injuries.
Add Extra Steps to Your Day
Walk the dog with the whole family.
Instead of calling friends, take a walk together to catch up.
Park your car as far away as possible so you have to walk a longer distance from your destination. Even better, walk or cycle to run errands in your community.
Walk up and down the field while watching your child(ren) play sports.
Get off the bus or subway one stop early and walk the rest of the way.
Replace a coffee break with an outdoor walk—or take the coffee with you on your walk.
Walk the golf course instead of using a cart.
Choose the stairs instead of the elevator or escalator.
Keep Moving at Home & In the Community
Keep a list of quick activities, like squats or stretches, near the remote so that you can be active during commercial breaks.
Wash the car.
Shovel snow, rake leaves, or do yard work.
Plant and care for a vegetable garden (then cook the vegetables for healthy meals).
Find your inner child—build a snowman or rake the leaves then jump in your piles.
Start your day with a morning stretch or end your day with calming yoga.
Sign up for dance lessons with a friend.
Experience the Great Outdoors and go for a hike or bike ride.
Grab a basketball or football for a quick pick-up game at a local park.
Join a community sports team or league, like soccer, rugby, or softball.
Participate in a local road race.
Go swimming at your local recreation center.
Staying Active for Individuals with Disabilities
Children and adults with disabilities can gain numerous mental and physical benefits from being physically active on a regular basis including: reduced risk of chronic and secondary conditions, improved self-esteem and greater social interaction.
Keep in mind that individuals with disabilities are just as capable and worthy of being active as someone without a disability and the activity does not have to be strenuous to provide positive benefits.
Look for opportunities to be active in inclusive programs that are already in place at your local community and recreation centers, health and fitness facilities, public agencies and park departments, or sports clubs.
Having fun while being active is the key! Find activities that you enjoy and include your friends and family in the action.
Track your progress and earn recognition for being physically active by starting to earn your PALA+!
Always consult your personal doctor before beginning any physical activity or exercise program.
Source https://www.hhs.gov/fitness/be-active/ways-to-be-active/index.html
---
Did you know that most vision problems are preventable? It's true! Vision loss doesn't have to be a natural part of getting older. Use our everyday tips to help set yourself up for a lifetime of seeing well. 
Wear sunglasses (even on cloudy days!) 
Sure, sunglasses are a great fashion accessory. But more importantly, they can protect your eyes from the sun's ultraviolet (UV) rays and help keep your vision sharp.  
When shopping for shades, look for a pair that blocks out at least 99% of both UVA and UVB radiation. Bonus: add a wide-brimmed hat when you're out and about for extra protection! 
Eat eye-healthy foods 
It's true: carrots are good for your eyes! In fact, a diet rich in a variety of fruits and vegetables — especially dark leafy greens, like spinach or kale — is important for keeping your eyes healthy.  
Research also shows that fish high in omega-3 fatty acids — like salmon, tuna, and halibut — can help protect your vision. 
Get plenty of physical activity 
Regular physical activity comes with a lot of great benefits. It can boost your mood, reduce stress, help you stay at a healthy weight — and protect you from serious eye diseases!  
Anything that gets your heart beating faster can help keep your eyes healthy — try going for a quick jog after work.  
Give your eyes a rest 
Do your eyes ever feel achy at the end of the day? If you spend a lot of time at the computer or staring at your phone, you may forget to blink — and that can tire out your eyes.  
Try using the 20–20–20 rule throughout the day: every 20 minutes, look away from the screens and focus about 20 feet in front of you for 20 seconds. This reduces eyestrain and helps your eyes (and you!) feel better at the end of the day. 
Protect your eyes — at work and at play 
About 2,000 people in the United States get a serious work-related eye injury every day. And get this: people with sports-related eye injuries end up in the ER every 13 minutes! 
The good news is that you can help protect your eyes from injury by wearing protective eyewear — like safety glasses, goggles, and safety shields. To make sure you have the right kind of protective eyewear and you're using it correctly, talk with your eye doctor.  
---
Why is physical activity important for people with arthritis?
If you have arthritis, participating in joint-friendly physical activity can improve your arthritis pain, function, mood, and quality of life. Joint-friendly physical activities are low-impact, which means they put less stress on the body, reducing the risk of injury. Examples of joint-friendly activities include walking, biking and swimming. Being physically active can also delay the onset of arthritis-related disability and help people with arthritis manage other chronic conditions such as diabetes, heart disease, and obesity.
Learn how you can increase your physical activity safely.
How much activity do I need?
Stay as active as your health allows, and change your activity level depending on your arthritis symptoms. Some physical activity is better than none.
For substantial health benefits, adults with arthritis should follow the Physical Activity Guidelines for Americans recommendations for Active Adult or Active Older Adult, whichever meets your personal health goals and matches your age and abilities. Learn more at the Physical Activity GuidelinesExternal website.
Learn how you can safely exercise and enjoy the benefits of increased physical activity with these S.M.A.R.T. tips.
Start low, go slow.
Modify activity when arthritis symptoms increase, try to stay active.
Activities should be "joint friendly."
Recognize safe places and ways to be active.
Talk to a health professional or certified exercise specialist.
Start low, and go slow. When starting or increasing physical activity, start slow and pay attention to how your body tolerates it. People with arthritis may take more time for their body to adjust to a new level of activity. If you are not active, start with a small amount of activity, for example, 3 to 5 minutes 2 times a day. Add activity a little at a time (such as 10 minutes at a time) and allow enough time for your body to adjust to the new level before adding more activity.
Modify activity when arthritis symptoms increase, try to stay active. Your arthritis symptoms, such as pain, stiffness, and fatigue, may come and go and you may have good days and bad days. Try to modify your activity to stay as active as possible without making your symptoms worse.
Activities should be "joint friendly." Choose activities that are easy on the joints like walking, bicycling, water aerobics, or dancing. These activities have a low risk of injury and do not twist or "pound" the joints too much.
Recognize safe places and ways to be active. Safety is important for starting and maintaining an activity plan. If you are currently inactive or you are not sure how to start your own physical activity program, an exercise class may be a good option. If you plan and direct your own activity, find safe places to be active. For example, walk in an area where the sidewalks or pathways are level and free of obstructions, are well-lighted, and are separated from heavy traffic.
Talk to a health professional or certified exercise specialist. Your doctor is a good source of information about physical activity. Health care professionals and certified exercise professionals can answer your questions about how much and what types of activity match your abilities and health goals.
What types of activities should I do?
How hard are you working?
Measure the relative intensity of your activity with the talk test. In general, if you're doing moderate activity you can talk, but not sing, during the activity. If you are doing vigorous activity, you will not be able to say more than a few words without pausing for a breath. Learn more about measuring physical activity intensity.
Low-impact aerobic activities do not put stress on the joints and include brisk walking, cycling, swimming, water aerobics, light gardening, group exercise classes, and dancing.
For major health benefits, do at least:
150 minutes (2 hours and 30 minutes) of moderate-intensity aerobic activity, like cycling at less than 10 miles per hour, or
75 minutes (1 hour and 15 minutes) of vigorous-intensity aerobic activity, like cycling at 10 mph or faster, each week. Another option is to do a combination of both. A rule of thumb is that 1 minute of vigorous-intensity activity is about the same as 2 minutes of moderate-intensity activity.
In addition to aerobic activity, you should also do muscle-strengthening activities that involve all major muscle groups two or more days a week.
Muscle-strengthening exercises include lifting weights, working with resistance bands, and yoga. These can be done at home, in an exercise class, or at a fitness center.
Flexibility exercises like stretching and yoga are also important for people with arthritis. Many people with arthritis have joint stiffness that makes daily tasks difficult. Doing daily flexibility exercises helps maintain range of motion so you can keep doing everyday things like household tasks, hobbies, and visiting with friends and family.
Balance exercises like walking backwards, standing on one foot, and tai chi are important for those who are at a risk of falling or have trouble walking. Do balance exercises 3 days per week if you are at risk of falling. Balance exercises are included in many group exercise classes.
What do I do if I have pain during or after exercise?
It's normal to have some pain, stiffness, and swelling after starting a new physical activity program. It may take 6 to 8 weeks for your joints to get used to your new activity level, but sticking with your activity program will result in long-term pain relief.
Here are some tips to help you manage pain during and after physical activity so you can keep exercising:
Until your pain improves, modify your physical activity program by exercising less frequently (fewer days per week) or for shorter periods of time (less time each session).
Try a different type of exercise that puts less pressure on the joints—for example, switch from walking to water aerobics.
Do proper warm-up and cool-down before and after exercise. You can find warm-up and cool-down exercises on the Arthritis Foundation's Walk With Ease Exercise Videos webpageExternal
Exercise at a comfortable pace—you should be able to carry on a conversation while exercising.
Make sure you have good fitting, comfortable shoes.
Source https://www.cdc.gov/arthritis/basics/physical-activity-overview.html
---
---
---
---
---
---
---