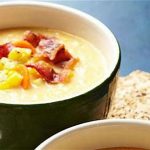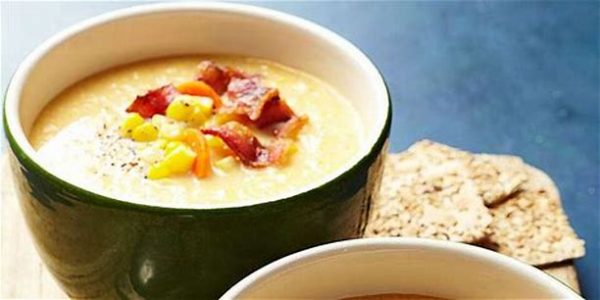 In a 4-qt. Dutch oven melt butter over medium. Add the next five ingredients (through salt); cook 10 minutes or until vegetables are softened, stirring occasionally. If desired, remove about 1/2 cup of the vegetables to use as a topper. Stir flour into the remaining vegetables. Cook and stir 1 minute more.

Gradually whisk in milk and broth. Stir in corn, thyme, and bay leaves. Bring to boiling; reduce heat. Simmer, covered, 10 minutes, stirring frequently. Remove from heat; cool 10 minutes.

Remove and discard thyme sprigs and bay leaves. Using an immersion blender, blend soup until smooth. (Or working in batches, transfer soup to a blender; cover and blend until smooth. Return all of the soup to Dutch oven.) Heat through. Top servings with the reserved vegetables, crumbled bacon, and if desired, black pepper.