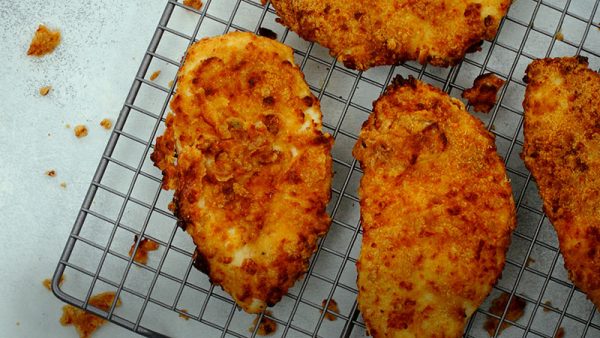 Preheat the air fryer to 390 degrees F.

In a shallow pan or dish, whisk together the flour, parsley, oregano, pepper and cayenne.

In a separate shallow pan or dish, whisk together the buttermilk and hot sauce. In a third shallow pan or dish stir together the crispbread crumbs and Parmesan. Set the dishes and a large plate in a row, assembly-line fashion. Dip the chicken in the flour mixture, then in the buttermilk mixture and finally in the crumb mixture, turning to coat at each step and gently shaking off any excess. Using your fingertips gently press the crumb mixture so it adheres to the chicken. Place the chicken on the plate. Cover and refrigerate for 30 minutes to 4 hours.

Lightly spray the chicken with cooking spray. Arrange the chicken in a single layer in the air fryer basket. (Don't overcrowd; work in batches as needed.) Cook for 10 to 15 minutes or until the chicken is no longer pink in the center and the top coating is golden brown, turning once halfway through and lightly spraying with the cooking spray.