#STRON@home 30 Day Challenge Getting FIT at HOME
Our FitForward™#STRONG@home 30-day challenge are comprised of short daily learning modules and weekly accountability check-ins to teach you all about their health, diet, fitness and more.
These actional tips get you healthy and moving.
  "Live" online virtual classes
  Complete access to our FULL anytime workout library for 30 days
  Daily notifications and emails with lessons and workouts
  Healthy eating tips
  Motivation and encouragement
  Accountability
  Complete tool for making a plan for your day and sticking with it
  Improvement for your mind, body, and spirit.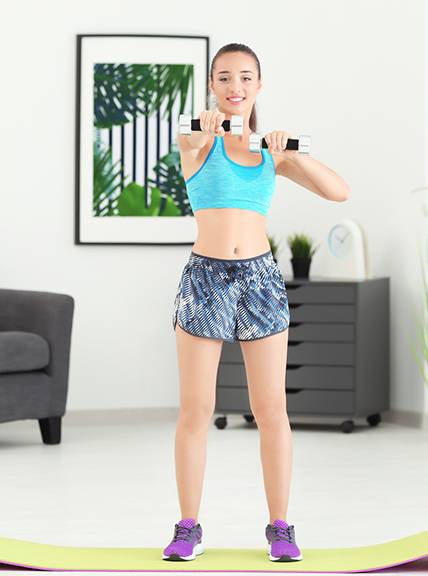 30 DAY HEART HEALTH CHALLENGE
Learn the right foods to eat to improve your heart health. Our Heart Healthy challenge gives you the tools to lower your cholesterol and reduce the risk of heart disease, heart attack, and stroke.
Only $29.99 for a limited time.
Discover the healing power of essential oils. Boost energy, relieve stress, strengthen your immune system and more with aromatherapy!
Only $29.99 for a limited time.
Build your core strength and lose inches off your waist. We'll give you daily reminders and healthy food options, so you can eat clean and feel better.
Only $29.99 for a limited time.
30 DAY "ADDED SUGARS" CHALLENGE
Most people consume 20 tsp of added sugar per day -more than double the recommended maximum. Learn where added sugars are hiding in your foods and how to cut them out!
Only $29.99 for a limited time.
We know we need to eat more fruits and vegetables. The 28-day veggie challenge teaches you to effortless habits to add more fruits and vegetables to your everyday diet.
Only $29.99 for a limited time.
30 DAY DIABETES CHALLENGE
Diet and exercise are the two keys to manage your diabetes. Take the 30-day Diabetes challenge and learn to take control of your health and blood sugar.
Only $29.99 for a limited time.
30 DAY DIGESTIVE "GUT" CHALLENGE
Billions of healthy bacteria live in our gut, and they're crucial to maintaining a healthy weight and a positive mood. Take our 30-day challenge to restore your gut and improve digestion.
Only $29.99 for a limited time.
Strengthen your body and spirit with our faith-based wellness challenge. Discover new ways to integrate health and faith into your everyday living.
Only $29.99 for a limited time.
THESE CHALLENGES ARE FOR ANYONE WHO:

Needs a boost in health and physical fitness!

Wishes to stay fit and receive accountability from home

Wants to take control of their health and fitness but doesn't know where to begin.

People who have tried a healthy lifestyle in the past but failed to keep the habits for the long-term.

Experienced fitness enthusiasts looking for new ways to challenge themselves.
Today: Only $29.99!*
Regular Price: $39.99… (25%+ Off!) / 'Plus tax and shipping
HEAR WHAT OTHERS HAVE SAID ABOUT OUR PAST CHALLENGES:
Don't ever give up! I didn't think I was making any progress but I lost 3 inches from my waist! Thanks so much for the challenge!"

---

t helped me be more aware of the food I eat, and that It's important to get the heart rate up through daily exer-cise."

---

Very motivating and encouraging to try harder to do the right thing for my health. I specifically like the question to ask…'will this food improve my health or damage my health?"

---

All of the information was informative. It really makes you access your dedication to making your body and mind better… Thank you all for these challenges!!"

---

have lost weight by eating clean and plan to continue this change in my eating habits."

 100% SAID THEY LEARNED SOMETHING NEW DURING THIS CHALLENGE.

100% SAID THIS CHALLENGE WAS HELPFUL TO THEM.
Today: Only $29.99!*
Regular Price: $39.99… (25%+ Off!) / 'Plus tax and shipping
GET YOUR FITFORWARD WELLNESS CHALLENGES NOW BY TRAVELTRIM™ AT A DISCOUNTED PRICE WHILE IT'S STILL AVAILABLE…