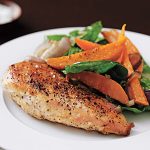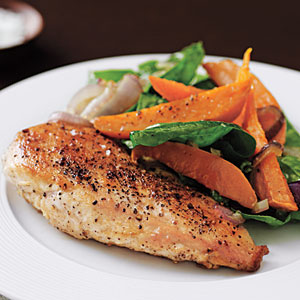 Heat oven to 425° F. On a rimmed baking sheet, toss the potatoes, onion, 2 tablespoons of the oil, 1/2 teaspoon salt, and 1/4 teaspoon pepper. Roast until tender, 20 to 25 minutes.

Meanwhile, heat the remaining tablespoon of oil in a skillet over medium-high heat. Season the chicken with 1/2 teaspoon salt and 1/4 teaspoon pepper and cook until browned and cooked through, 5 to 6 minutes per side.

In a large bowl, toss the warm potato mixture with the spinach, lime juice, and 1/4 teaspoon salt. Serve with the chicken.
Substitutions: Tossing warm roasted vegetables with fresh spinach gently wilts and tenderizes the greens. In place of sweet potatoes, try butternut squash, rutabaga, carrots, or parsnips.