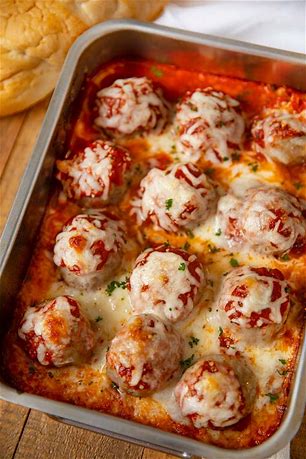 | | |
| --- | --- |
| | |
Preheat oven to 350°F. Bring a large pot of water to a boil and add pasta; cook until the center of the pasta is still somewhat firm, about 4 minutes less than package directions. Drain the pasta and transfer to a 9-by-13-inch baking dish. Add half of marinara sauce to the pasta and stir to coat.

Combine ground beef, panko, onion, basil, egg, Italian seasoning, salt and crushed red pepper in a large bowl; gently mix with your hands (do not overmix). Form the mixture into 16 (about 1 1/2-inch) meatballs, nestling the meatballs into the pasta mixture as you work. Pour the remaining marinara sauce over the casserole and top with cheese.

Bake until a thermometer inserted into the meatballs registers at least 160°F and the cheese is lightly browned, 35 to 40 minutes. Garnish with basil, if desired.