TravelTrim™ has the answer to your wellness and education needs. Educate your employees on issues like common health, healthy diets, and fitness. Exercise and healthy eating can prevent many of America's health issues and ensure health and wellness in the workplace. That's why awareness and prevention are key! We developed our online learning modules with subject matter experts INCLUDING physicians, nurses, registered dieticians, physical therapists, and certified personal trainers to give your employees the tools they need to succeed – so you can too.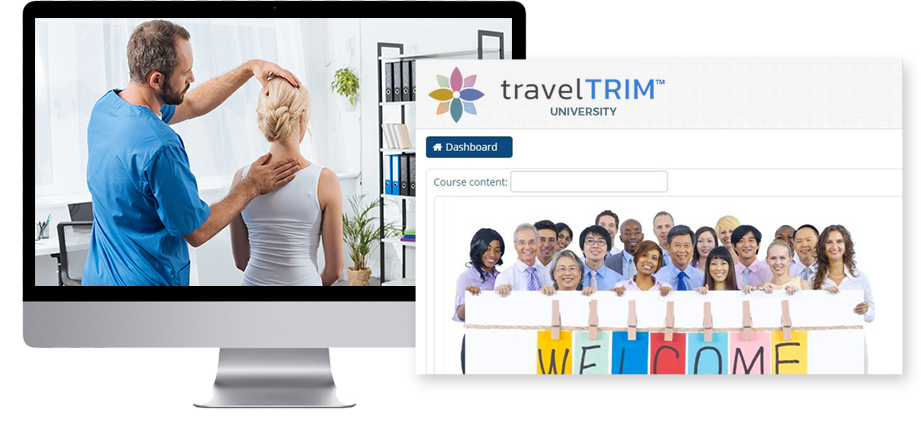 COURSE SAMPLES

Exercise


Health & Preventative Disease
Heart Disease
Diabetes
Cholesterol
Blood Pressure

Nutrition
Reading Food Labels

Understanding Carbs

Healthy Diet for a Healthy Heart

Eating Clean & Your Metabolism
OTHER FEATURES
Employee Wellness Site (corporate branded using YOUR logo) – includes:
Health education tools in the areas of nutrition, exercise, health &  preventative disease, holistic health (mind/body) and financial health via the FitForward™  University app (Live online e-learning, videos, and coursework)

Online instructional exercise videos, workouts, recipes nutritional education, parks and trails nearby, fitness for kids and more.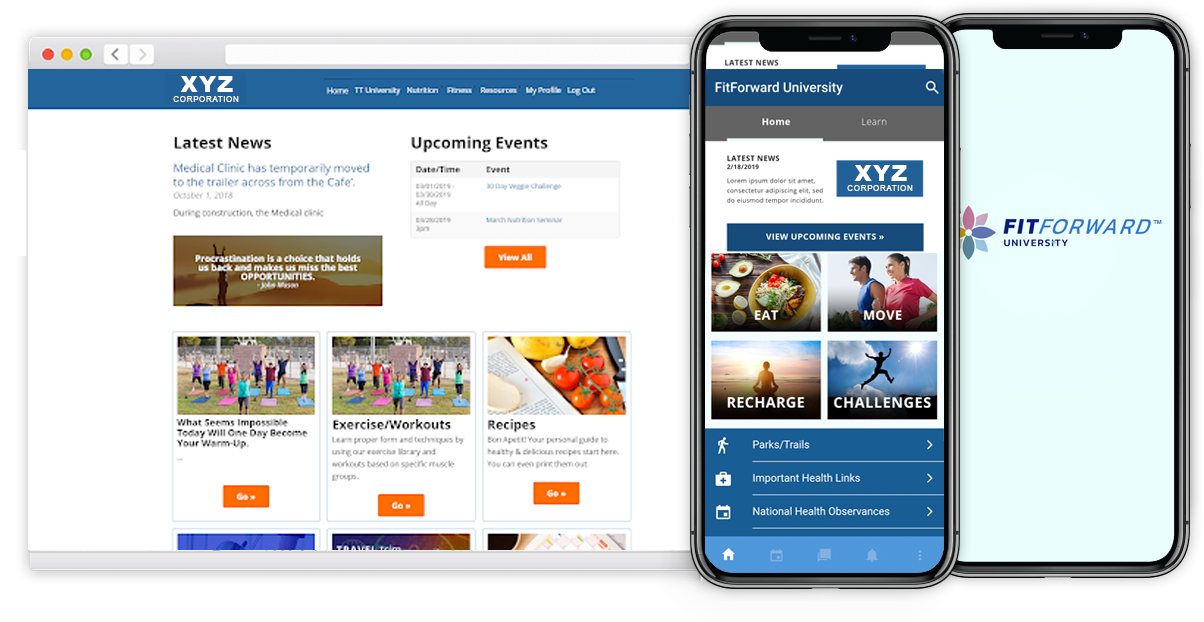 Ready To Discusse Your Needs?
–Connect with our top corporate wellness expert today!
What our clients are saying
I enjoyed this program. The daily reminders were great. Like hey…don't forget to watch what you eat and move. Thanks!"

The abs challenge really helped me to be a better person. I work out regularly but never stuck to a consistent diet. The challenge helped me by holding me to check in for accountability."

Don't ever give up! I didn't think I was making any progress but I lost 3 inches from my waist! Thanks so much for the challenge!"

These challenges are exactly what I need. Without them I wouldn't workout as much or watch my food intake. Thank you all for checking in with us daily and the exercises and recipes…need more recipes! Can't wait for the next challenge."

"I learned things I didn't know, it helped to motivate me to have better eating habits, & I learned how different foods affect my body."

"I found the Veggie Challenge to be a neat change to my normal eating habits. I've always enjoyed eating vegetables, but to eat five servings a day while documenting it made it a priority. I believe I will continue eating more veggies than I did before."

"I am often hesitant about challenges because I always figure I won't stick to it.  The start of this challenge was during a two week vacation for me.  I challenged myself to do the challenge forcing me to eat right on vacation.  In the whole 30 days, I only had one day where I did not eat 5 vegetables but I actually had 4.  I also ate more fruit and it has become my go to snack.  Getting in the 5 servings/day has shown me the effect it can have on my body.  Functions that don't normally act like everyone else worked amazingly well.  I focused heavily on staying away from all potatoes, except for just a couple of days. The challenge made me focus and challenge myself in more ways, so I think it was very helpful!"

"I actually had a good two weeks of getting my veggies in each day and I noticed that my energy levels increased and my body went through a 'cleaning'. I tried several of the recipes and the ones I like in particular were the sweet potatoes and the spaghetti squash. My family liked these as well. It will be something that my family and I will continue doing. We had the roasted cauliflower last night and it was delicious!"